A question?
Ask it here!
Do you have any questions or would you like to share something? Feel free to send me a message; I'll try to respond as quickly as possible.
Be sure to take a look at the FAQs first; you might find the answer to your question there.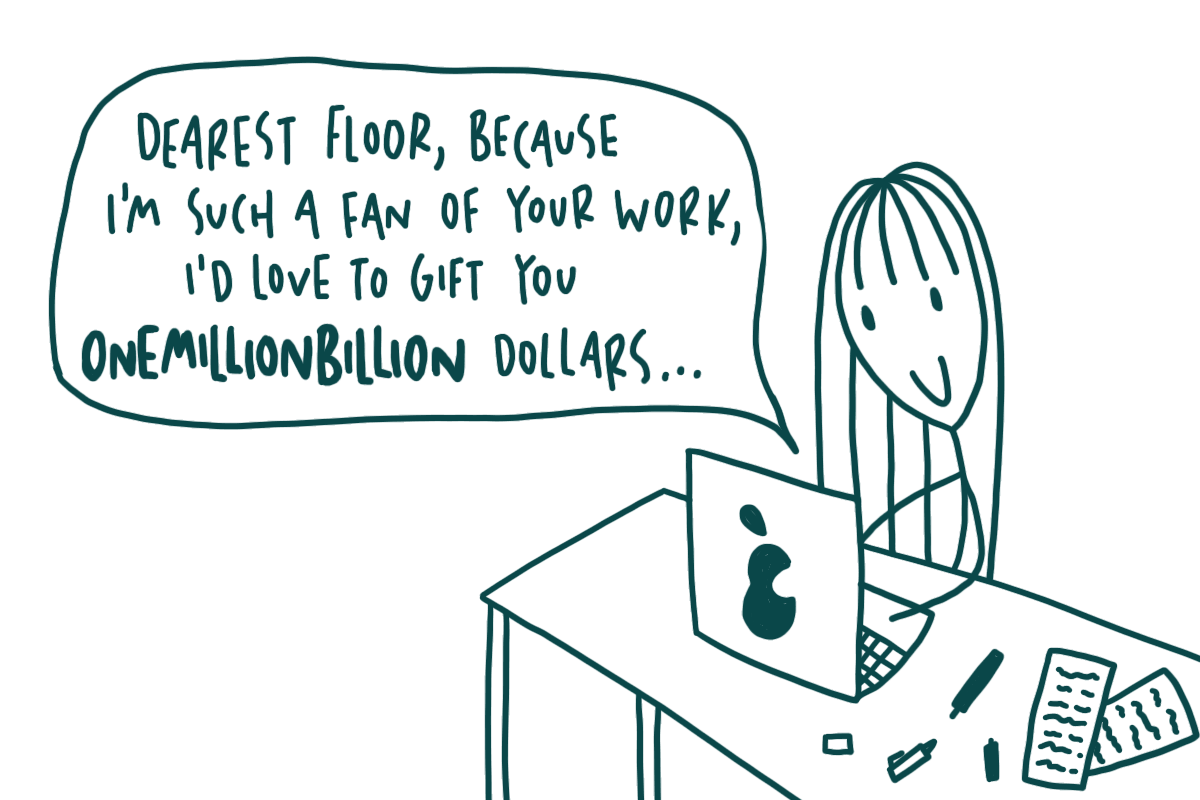 General question
Hallo@floordenil.com
A problem with your order?
Ikhebeenprobleem@floordenil.com
Wanna work together?
Ikwilzakendoen@floordenil.com
Wa the FAQ?
Can I return my products?
Sure! If the size you ordered isn't the right fit for you, you can always return your clothing item. Please make sure that the clothing item has never been worn and is still in its original condition. This way, I can make other customers happy with it, and we won't waste any materials!
Please note: to minimize the 'I order ten sizes and keep one'-vibe, I always ask you to check your size carefully in advance using the available size charts for the products. Shipping costs for returns are always the responsibility of the buyer.
There is an issue with my order. What should I do?
Ow! I'll try to resolve that as quickly as possible. Send me a message at ikhebeenprobleem@floordenil.com, and we'll get it sorted!
What is the delivery time?
If your order is placed before 5 PM, I'll make sure it gets sent out the next working day or the one after that. Depending on the country you live in, shipping times can be longer as all shipments are sent from Belgium.
For orders with stamps (cards and tote bags), it's best to add a few working days to the delivery time.
I also live in Brussels. Can I pick up my order?
You sure can! At the checkout, you can choose 'pickup' instead of 'shipping'. There, you can select when you'd like to pick up your order. Possible pickup times are Wednesday and Sunday between 4 PM and 6 PM.
I'd like to hang up a cartoon of yours at my place. Do you create artwork on a larger scale than the prints in your webshop?
Whether I take on such commissions largely depends on the volume of orders I have at that time. Feel free to send me an email at hallo@floordenil.com, and we can discuss the options together.
My order was partially packed with bubble wrap. I thought this webshop was entirely plastic-free?
That's correct. It happens that I have some leftover bubble wrap at home. I occasionally receive them from friends, find them in packages delivered here, or spot them at the waste disposal area in the supermarket. Instead of throwing this plastic directly in the trash, I like to give it a new purpose. But let me make it clear: I do not purchase new rolls of bubble wrap myself.